That time I might have had COVID
I was pretty ill in February 2020. I had an upper respiratory infection that turned into what felt like the worst pneumonia of my life. I was in my mid-40s and fairly healthy, but this thing, whatever it was, completely knocked me down. I took a week off work, sat in a lot of hot baths, and waited in misery for it to pass. It took me almost a month to fully recover.
As I was recovering, news about what would become known as COVID-19 was making international news.
Did I have an early case of COVID?
I'm still not sure, but let me tell you a story.
The timeline
Back in 2020, there was a lot of confusion over what was happening and how significant events would eventually become. According to the CDC Museum COVID-19 Timeline (Archive link), COVID had reached the U.S. by then.
By the end of January 2020 there were only a few known cases circulating in the U.S. But by the end of February, the first death had been reported. It happened in Kirkland, WA, just across Lake Washington from where I lived in Seattle.
I would have had to be particularly unlucky, but the timing works.
Why wasn't I vaccinated?
I was sick February - March of 2020. On March 17 2020, Moderna would begin human trials of their vaccine (coincidentally, also in Seattle). The EUA for the first U.S. vaccine (Pfizer) wouldn't be granted until December. Moderna's authorization came a week later.
I got my shot at the first opportunity, in April 2021. I drove with some friends two hours out of the city to find one. That was more than a year after I was sick.
How could I confirm or disprove it?
Unfortunately PCR and rapid testing was not yet available to the general public. By the time antibody testing was available, it had already been too long to tell (I tried, and the test was negative).

Of course I did have my SEM. While I could achieve much higher magnification compared to an optical scope, an SEM isn't an ideal tool for imaging corona viruses. A TEM would have been much better, but sadly I didn't have access to one. A TEM passes its electron beam through a sample, revealing the characteristic halo of spikes that gives them the name "corona". A SEM captures electrons reflected off the surface of a sample, making it very difficult to capture the fine detail of the corona spikes.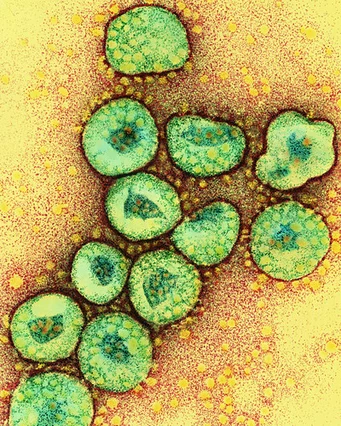 And so on March 18 2020, while still recovering, I coughed as hard as I could onto a microscope stub and tried to take an image.
At 5,000x I could barely make out some particles that were roughly the right size: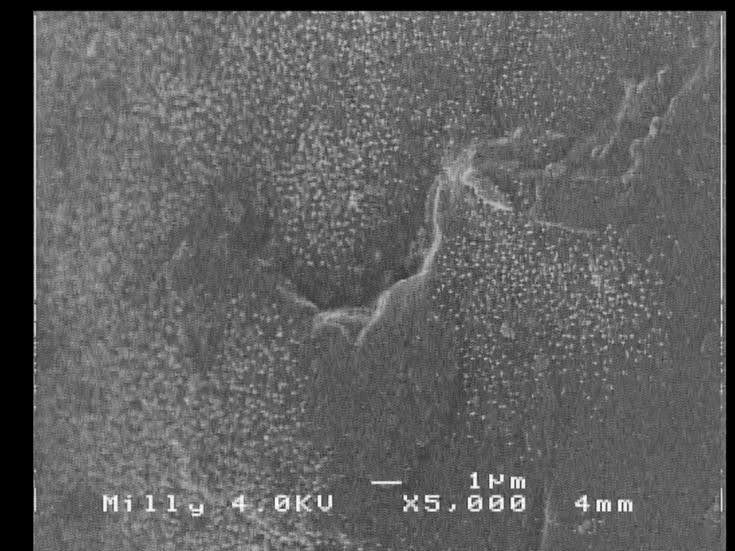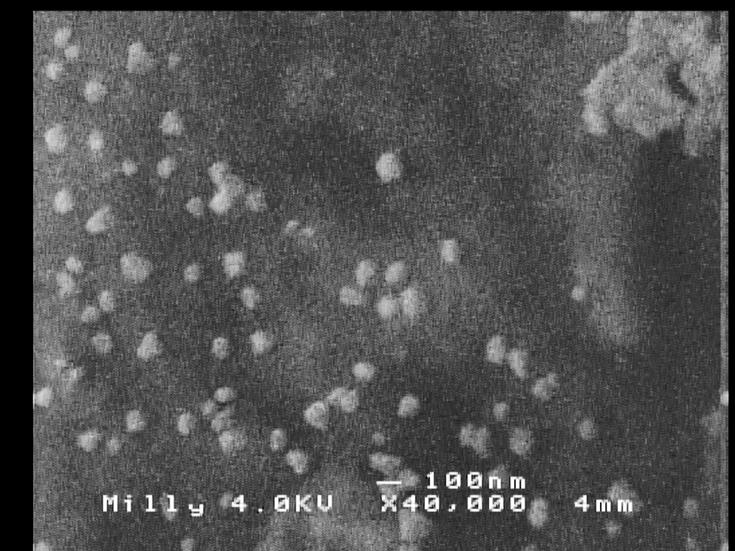 After much knob twisting, I was able to zoom in quite a bit more: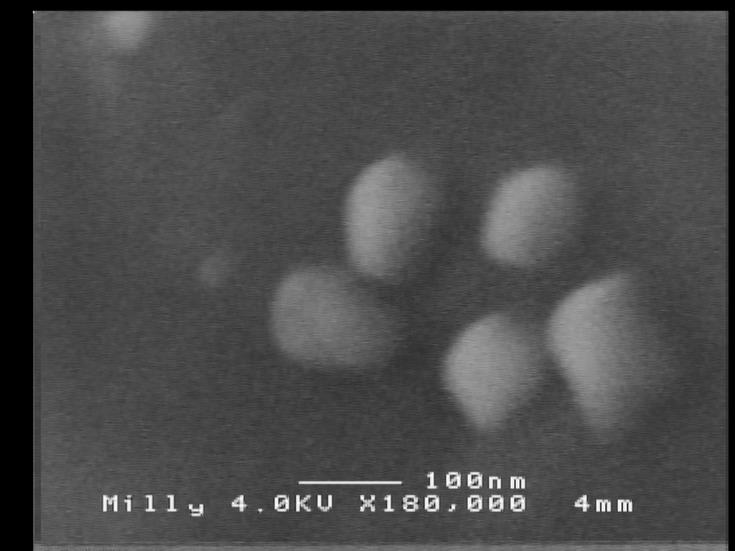 The particles are definitely in the right size regime, 60-140nm. But to get that zoom I had to take a long, slow exposure at low resolution, so the fine details are lost. How do these images compare to other SEM photos that have emerged since 2020?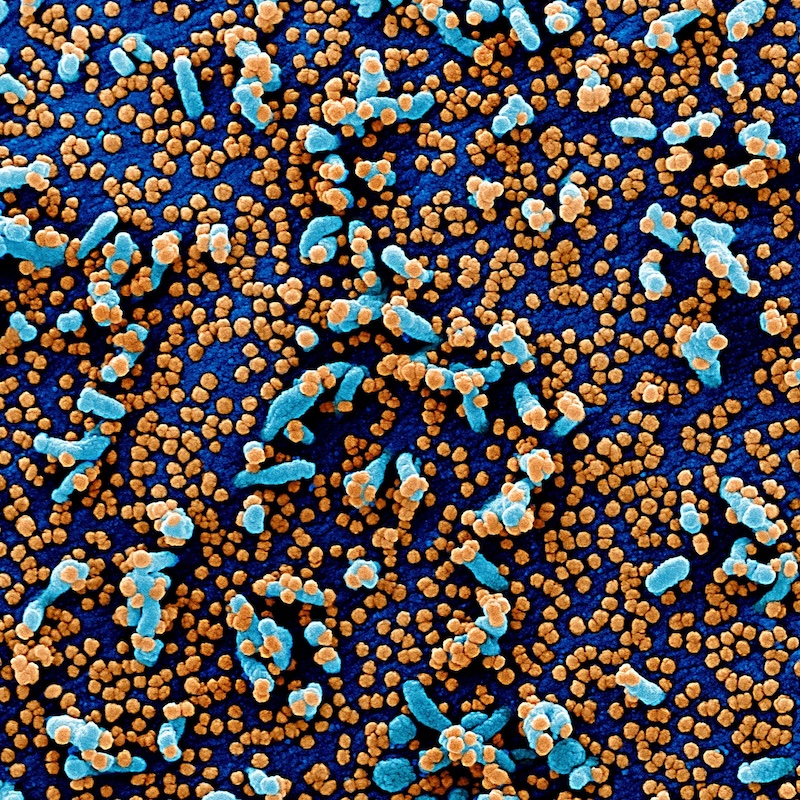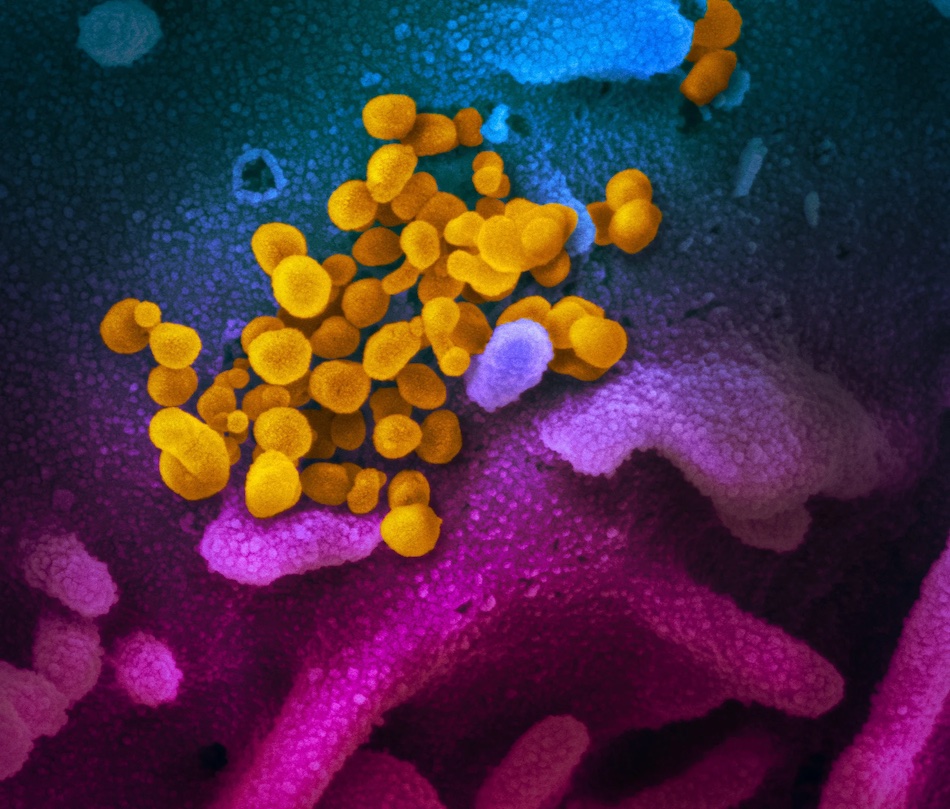 While my antique scope with its homemade FEG emitter and mediocre operator skills can't compare to the above works of art, I'm reasonably convinced that I captured photos of some kind of viral particle. It could of course have been H1N1 or H3N2 which were circulating at the same time. Without a confirming test it is impossible to know, but I'm sure I'll always wonder what really happened to me in 2020.
---
That time I might have had COVID
https://hackerfriendly.com/covid-2020/